Visitor





Thank you for calling

I hope you enjoy browsing my page as I have some interesting things to share with you.
My name is Elvie Fraser and I live in Launceston, (
pronounced Lon-ses-ton
) The second largest city in Tasmania. I am a retired Priest in the Anglican Church and still take a service each month. Since my retirement I have been able to achieve many things and have gone away for several trips which includes Queensland, Bendigo, Norfolk Island, Borneo, Tocumwal, Flinders Island, King Island and several tours in Tasmania,
Western Australia
,
New Zealand
,
Canada
, and on a cruise to
Vanuatu
.
I am also interested in family tree research and some of my findings are on the Family Tree page.
I live with my brother David, and he is interested in philately and has his own page. He has some lovely photos of Tasmania on his page
I also like making cards.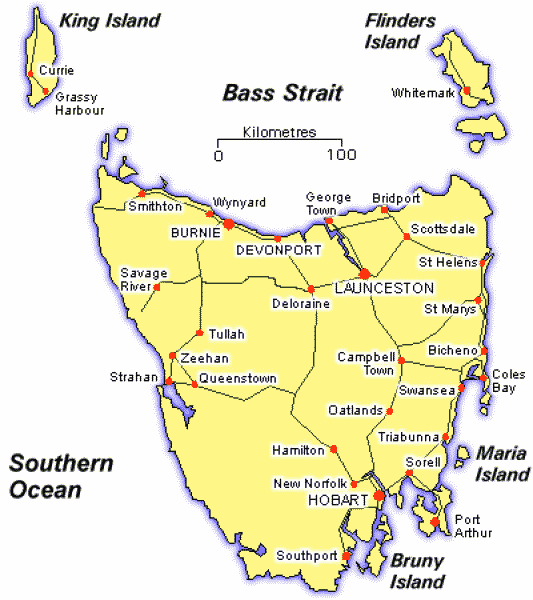 Tasmania
Tasmania is an Island south of Australia.
The lifestyle is easy going.The scenery is beautiful and one does not have to travel miles without changing the scenery. It is a little like Scotland, Wales, England, Switzerland and New Zealand. We have good weather without tornadoes nor hurricanes. Summer is from December to March but the weather is still good until May when it begins to get a little cooler.
For relaxation there are plenty of things to do - Cycling, hiking, sporting teams like cricket, football, hockey, golf and basketball are all to the fore.
With many rivers and lakes, there's ample of water sports like swimming, boating and fishing. Our Trout fishing is known world wide.
We are also known for our fine wines and foods, unique to Tasmania. Launceston has been voted the best place for restaurants.
Tasmania day is on February 5th. Communities around the state have special things on that day. One Tasmanian is named the Tasmanian of the Year.
Ricky Ponting the former Australian Cricket Captain is from Launceston. His home cricket club is Mowbray. We do have some talented cricketers living in our state.
If you would like to tour our wonderful State of Tassie, I know you will get a warm welcome.
Family Tree Book
Since being on the net I have got so much information on the family names from whom I descended, that decided to put it in a book for the family.
There are 7 convict ancestors as far as I know, so there was information on them. The book covered whatever could be collected. A map of Tasmania to show where places are of the towns mentioned, The meaning of some of the family names, birth and marriage certificates, a funeral account, a letter dating back to 1822, our house, family members gave their memories, I Included extracts from my mother's diary when she went away, and there is quite a bit on my work in the church. It is a good record for the family. The book has 168 pages and is in a loose leaf folder in plastic pages. This allows for easy alteration and additions.
Craft Fair

We also have many craft people here, and at the end of October host the largest working craft fair in Australia. Many people come from all over Australia to show their wares. Some come to buy something that cannot be bought anywhere else.
This is held on the last weekend in Octoner and ends the Monday before the Melbourne Cup.
Here you will see some of the Annual events we have and also some of the firsts that Tasmania has initiated.
*******************************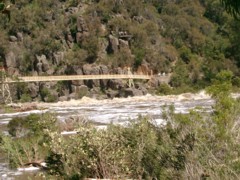 The Cataract Gorge in flood
This picture shows the swinging bridge across the gorge, which is only a few minutes drive from the centre of Town. It is a beautiful place with walks, peacocks, daffodils, and a swimming pool. There is also a kiosk for food. It is beautiful even when not in flood and is the main natural beauty spot of Launceston.